Summer breakfast at Kinburn – Local strawberries, fresh fruit salad, bananas, a great selection of cereals and seeds, yogurt, homemade bread and jam followed by a traditional Scottish cooked breakfast made from local produce.
Help yourself to a buffet selection
of cereals, yogurts, fresh fruit, homemade fruit compote and fruit juice
Porridge
our porridge is made with organic oats and semi-skimmed milk. Baked in the slow oven Aga for one hour. Served with homemade fruit compote, fresh berries (if available) or local honey.
Kinburn cooked breakfast
two slices bacon, one pork sausage, local free-range egg (scrambled, fried or poached), baked tomato and hash brown.
Scrambled eggs with smoked salmon
three local free-range eggs scrambled, served with oak flavoured Scottish salmon
Toasted bagel
with cream cheese served and bacon or Scottish smoked salmon
Toasted bagel
with two scrambled eggs and Scottish smoked salmon or bacon
A selection of teas
French press coffee (Fairtrade coffee from small holder farmers in Central and South America and India)
Cold filtered water
Seeded batch and/or white toast
Homemade jams and marmalade
Toasted white or brown seeded bread
Breakfast is served in the breakfast room between 7.45am and 8.45am unless previously arranged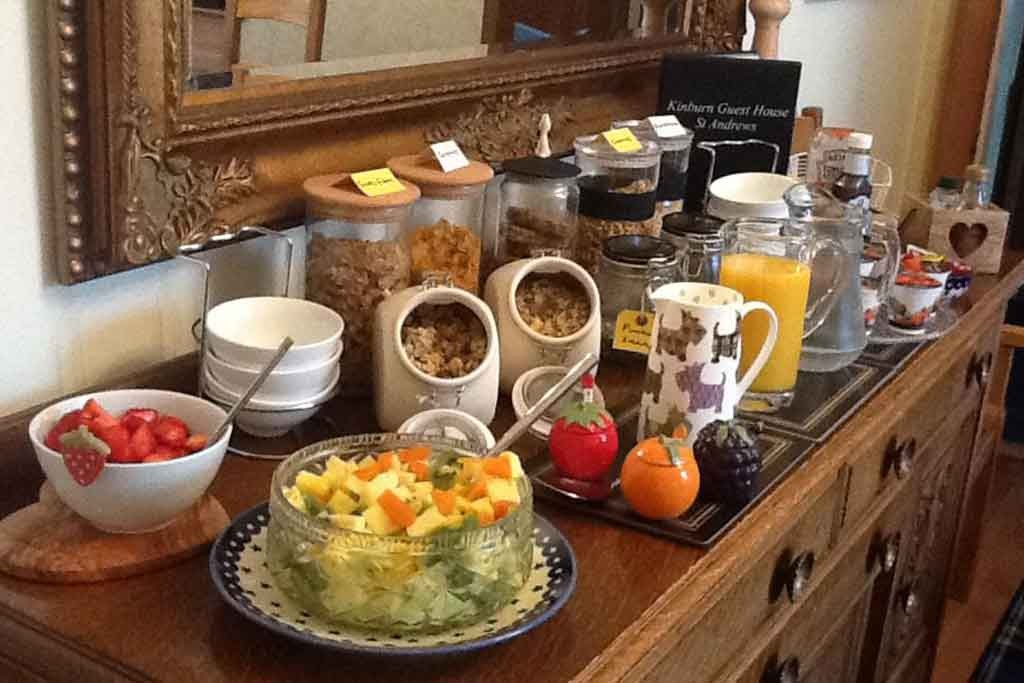 We source our food from local Scottish producers (summer 2020)
D Blyth and Sone, Fife supply our free-range eggs
Puddledub prepare our pork sausages and bacon
Quaker Oats, Cupar supply our oats
Fife Honey, Boarhills supply our natural honey.
Soft fruit  Pitromie Farm, Fife
Our homemade jams and compote are made with local soft fruit from Pitromie Farm when available
On our recent Visit Scotland grading we were delighted to retain the "Taste our Best" certificate in recognition of the high percentage of local produce used in our breakfasts. We have also been accredited a certificate from "Food from Fife"
CONTACT US TO CHECK AVAILABILITY AND SECURE OUR BEST POSSIBLE RATES FOR YOUR VISIT TO ST ANDREWS